About Us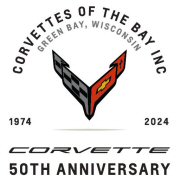 Corvettes of the Bay is a non-affiliated car club in Green Bay, Wisconsin. Founded in 1974, there are now over 200 members who enjoy getting together at the club's various events. See the Events page for specific dates and times of upcoming events. A Fall run, Spring run, Fall corn roast, Corvette Show and Cruise-In and a club Christmas party are some of the annual events the club has had over the years. Every month there is a club dinner run to a supper club in the Northeast Wisconsin area.
Purpose of the Club
To create a climate for meeting fellow Corvette owners.
To help give full enjoyment out of owning and driving the Corvette sports car through over the road motor caravans and attending automotive related events.
To provide and regulate events and exhibitions for Corvette enthusiasts.
To encourage careful and skillful driving on public highways.
To provide opportunities for dialogue and intermingling of people with common interest.
To encourage understanding and cooperation among the other members of the club.
To work together in meaningful and relevant events.
Download an application today! New members are always welcome! If you'd like to see what the club is all about before joining, feel free to attend a monthly meeting at The Village Grille in Green Bay. See the side bar on the right side for the next meeting date.
If you are existing member, please log in here.